Air Duct Cleaning
We are your go-to service for air duct cleaning with the highest quality equipment available in the industry.
We also clean:
Dryer vent systems
Base board heating systems
Why should I clean my air ducts?
Heating, Ventilation & Air Conditioning systems serve as ideal breeding grounds for mold, germs, fungi and other harmful microbes.

These pose health risks to those with allergies, asthma, immune system issues, as well as affect children and the elderly.

Cleaning your ductwork as well as your HVAC system not only eliminates contaminants but also improves the heating & cooling efficiency of your system by improving air flow and reducing fuel costs.
How We Clean
We use the only self-contained patented equipment that brushes and vacuums the debris at the same time. Why is this important? This system keeps dirt and other debris from blowing back out into the air of your home or office.
Click HERE for specific details on our cleaning process.
Dryer Vent Cleaning
The United States Fire Administration and FEMA have issued special reports detailing the fire hazards related to lint in clothes dryers and dryer vents. Approximately 16,000 structure fires and roughly 13,000 residential fires, per year, are attributed to excessive lint in dryers and dryer vents. Numerous deaths, hundreds of injuries and millions of dollars of property damage occur as a result of these fires.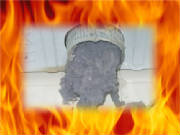 FIRE WARNING:
Even a cleaned lint screen traps only 75% of the lint produced inside a dryer. The rest of the lint builds up over time blocking air flow inside the dryer vent, creating excessive heat and becoming a fire hazard. Dryer lint is highly flammable and has the potential to ignite at any time!
Check your dryer vent regulary, don't let this easily avoidable hazard happen to you!
Check out the video below to learn about our RotoBrush cleaning system: